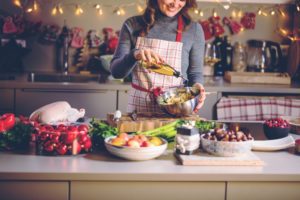 Traditionally, Christmas dinner involved going to the supermarket, buying the main ingredients, and then preparing and cooking the meal yourself at home. However, as food manufacturers release more innovative products, there is a much wider range of choice – both in terms of the foods available, and the way they're prepared.
Here, we take a look at how exactly food manufacturing businesses are changing the face of Christmas forever…
Ready meals
Christmas has been made easy with ready meals that include all the trimmings. These aren't just for one either – these feasts are available for two as well. Plus, bigger families can even take advantage of meal deals on Christmas frozen food.
Festive ready meals have been gladly met by consumers, and not just because they result in less stress and arguments. They can be more affordable, making the traditional Christmas dinner accessible to everyone. However, ready meals do come with one issue. They result in single-use packaging, which is something the industry needs to do more to tackle.
Unique products
The standard Christmas dinner isn't for everyone, and the food manufacturing sector has recognised this by bringing out more of a variety of products. There's everything from salmon loin fillet and steak and ale pie for the main to a white chocolate, prosecco and raspberry trifle and biscuit-topped mince pies for dessert.
As these unique offerings resonate with customers, food manufacturing businesses are now competing to develop products that are even better and more innovative in the market.
Alternative options
Those in the sector are also introducing products that suit people with dietary requirements – whether they be vegetarian, vegan or have food allergens. Instead of a beef wellington, vegans can tuck into a cauliflower wellington, and vegetarians can enjoy the likes of a red onion and beetroot quiche. For pudding, there is everything from gluten-free Christmas cake to vegan Christmas pudding.
The festive season is clearly a prosperous one for food and drink manufacturing businesses, and as a result the roles that contribute to this are increasing. It may be that you're looking to recruit for the busy period or are seeking a position yourself – and this is where Silven can help.
We're specialists in the industry, with years of experience behind us to guarantee that all needs are met – for candidates and clients. By taking a personable and in-depth approach, we're able to effectively recruit for permanent and interim placements, along with board-level appointments.
As we leverage the latest technology and always keep our fingers on the pulse, we work fast too. You can benefit from our incredibly proactive way of working in food manufacturing recruitment – simply get in touch with our friendly team today.