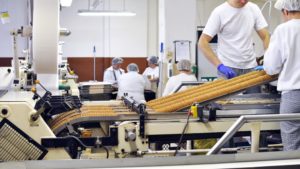 With the food and drink manufacturing industry thriving, there are more than enough roles going around. However, recruitment isn't easy – in fact, there are a number of challenges. From knowing how to attract women to the impact of Brexit, businesses have a lot on their plates when it comes to talent sourcing.
There are ways to combat these issues though. Here, we take a look at the main challenges and how your SME can solve them.
Education
Many recruitment issues revolve around the skills gap. There are numerous areas where the skills required are very different to those that candidates possess, such as quality assurance. Often, the main cause for this is inadequate education. Historically, there hasn't been many food-related qualifications available – both for degrees and apprenticeships.
However, thankfully, this is changing. With the introduction of the Apprenticeship Levy in April 2017, their popularity has risen. This also has other benefits that allow food manufacturing businesses to move forward, like cost savings.
Lack of diversity
The skills gap has the potential to be met if the workforce was more diverse. Currently, there is not an equal male to female ratio, particularly in specialisms such as engineering and meat manufacturing.
Whilst there's been improvements due to initiatives like the Women's Engineering Society, there is still a long way to go. And so promoting these careers, along with making them more accessible, will be core to attracting more women into engineering and establishing a diverse team.
Brexit
The skills shortage is set to become even more of an issue when the UK eventually departs the European Union. Why? Because 30% of the sector are EU nationals.
On top of this, depending on the deal – if there is one – could mean that Britain will face problems of potential trade surpluses and even empty shop shelves. Effective planning for this post-Brexit world will be an absolute necessity.
Interim misconceptions
Hiring an interim can be an option if a position is temporary. Yet there are misconceptions around this type of role that have resulted in a recruitment challenge. Candidates often think there's not much choice, and that they will be paid less. This is a myth – it depends entirely on the role.
And clients believe that recruiting for them is more expensive than sourcing permanent workers but, often, this is not the case. Many also believe that interim executives are strategic – but they commonly take an active approach as well.
Scarce resources
Another issue food and drink manufacturing SMEs are having is that they don't have the resources to recruit the talent that they need. It can be a long and tiresome process, which is why it's best to outsource it to a specialist recruiter like Silven.
We have the numbers to find your new team members quickly, but without compromising on an in-depth approach. Plus, we keep our fingers on the pulse, so whether it's a permanent, interim or board-level appointment, we'll deliver the right talent.
Our team take a structured approach for the different markets, ensuring all roles are retained to a high quality. We're personable too, so we'll meet your needs, and ensure the perfect client/candidate fit – even in those tough-to-recruit markets. In fact, where others have failed to recruit, both market leaders and SMEs have turned to us for a successful placement.
Want to solve your recruitment challenges? Simply get in touch with our friendly team today.