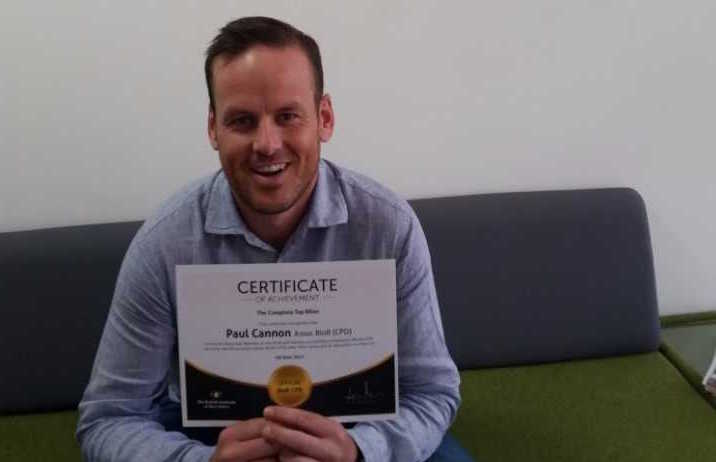 Silven are delighted to announce that one of our recruiters has gained a top industry qualification.
Paul Cannon, 38 has passed the British Institute of Recruiters Complete Top Biller training, becoming the first in his 'hub' to do so.
The course is designed for anyone who has over 18 month's experience in recruitment with an established client base. The course is the only one of its kind where students must apply the techniques learnt and prove an increase in their billings to gain the accreditation.
Paul, who specialises in Engineering, Operations, NPD and Technical started the course after encouragement from MD, Ian Simkins. Paul says, "Ian thought it would help me get to the next level in my career. Always one to try and better myself, I jumped in with both feet.
"I can honestly say I enjoyed the course. Some of the highlights were about building your brand, spin-selling and improving the client/candidate management process.
"I like the way the course is delivered. It allows you to understand in your own way. The assignments were not too bad, albeit a little-time consuming as you had to put down some targets which you would be judged on at the end of the course.
The course wasn't without it's challenges. Paul adds, "To start with, it was to complete all the assignments on time, with details on how you can improve and develop.
"It made me ask some uncomfortable questions to clients and candidates alike with regards to my service, which was an eye-opener.
"Bringing what I learned into the day to day process was not too hard, it was more about identifying when you did perform that process."
Paul feels he has gained a lot from the course and plans to use these skills moving forward in his recruitment career. He says, "It has made me better, more rounded and knowledgeable with regards to the processes in place on a day-to-day basis.
"Asking better questions, listening to what they are not saying as opposed to what they are saying.
"I feel the benefit will truly show its potential once my business plan (Hannah keep model) starts to pay off."
Trainer Hannah Keep commented, "Great work Paul. You really did deserve to pass looking at the work you have put into the course and especially looking at ways you can differentiate yourself.
"You are the first person to pass this course from a hub which I think is an even bigger achievement because you have had to do it all yourself. You have been committed to developing yourself and this in my book deserves a lot of recognition."
Ian Simkins says, "Paul really applied himself and embraced the whole course and got some great results on the back of it.  Well done Paul!"
Paul worked in menswear retail for 16 years before deciding on a career change and has now been in recruitment for five years, covering permanent roles in Yorkshire and the surrounding areas.