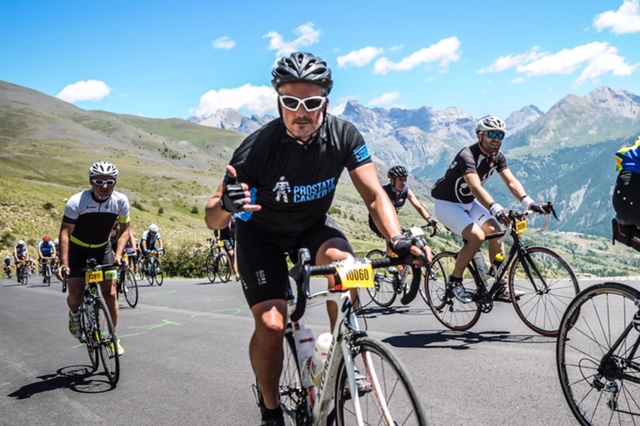 We're quite a fit bunch here at Silven and we're always proud when one of our team takes part in a charity challenge. We like to do our bit and have taken on various team challenges in the past including Tough Mudder and Rough Runner. However, our Permanent Recruitment Manager John Pollard and five of his friends flew to the French Alps last week to take part in the (what some would call grueling) Le'Etape Tour, we asked John a few questions about his experience and why he took part:
What inspired you to take part in the L'Etape challenge?
In November 2011, a friend suggested we try this event called L'Etape du Tour. It's run every July, at the same time as the Tour de France.
It involves cycling one of the mountain stages of that year's tour. I love cycling. Well, I've always loved watching it, so I was excited about the opportunity to cycle the same route as the professionals and challenge myself in the mountains.
I entered and completed the L'Etape du Tour in July 2012 and did it again in 2014. Both events were in the Pyrenees. Last November, the stage that would be used for the Etape du Tour in 2017 was announced and it was in the Alps. And it was a cracker!
It would, for the first time ever, culminate in a summit-finish at Col D'Izoard, at an altitude of 2360m. I had to enter.
You get about you do John! Why did you choose this particular challenge? 
As above but also… I used to enjoy road running. I did the London Marathon several years ago, but my knees won't take it anymore.
So, cycling offers me an opportunity to stay fit and I actually prefer it. You cover a greater distance and get to see some spectacular views whilst out on the bike.
The knees are all part of getting old, but you look fit as a fiddle to us! How long did you train for and what did it involve?
I started training as soon as I'd entered. Last November, I slowly ramped up the distance I covered with each ride and the frequency of the rides. I'm fortunate in that I get to cycle to work, so I'm getting on my bike almost every day.
Having picked up a couple of injuries with two months to go, I was concerned about my fitness, but regular physio treatment helped me get back on track. I was on the bike all the time in the final few weeks, either commuting to work or training on the rollers, during the week, and then out on big rides of 80 miles or more at the weekend.
Phew! I am tired just listening… How about the challenge itself?
The 18th stage of the 104th edition of the Tour de France started in Briancon, in the French Alps, covered 178km, including 4000m of climbing.
We went South from Briancon before heading East and then back North up into the high mountains, going up and over Col de Vars (2109m) and then up to the summit finish of Col d'Izoard, at 2360m (7743 feet) above sea level. The last 10 kilometres before Izoard were above 9% of average gradient!
Oh, and it was about 30 degrees in temperature!
What were the best parts of the challenge?
Without doubt, I enjoyed some of the most spectacular views I've ever experienced. The roads around the magnificent Lac de Serre-Poncon, provided me breath-taking views that were then matched by those whilst climbing and then descending the Col de Vars.
Of course, crossing the finishing line was a great feeling!!
Blimey! Now that's what you call an achievement! What were the most challenging parts of the event? 
The climbs up Col de Vars and Col D'Izoard. This L'Etape was much tougher than in 2012 and 2014. The steep gradients and the length of the climbs meant that there was absolutely no respite. It was totally unforgiving and I've never seen so many people get off their bike and walk.
(I'm glad to say that I didn't!)
I think I would be a walker too, or a crawler maybe… How did you feel after the challenge was complete?
Amazing! I was never going to stop, no matter how tough it got, particularly as we were doing it to raise money for a fantastic charity, Prostate Cancer UK, which is very close to my heart and many of us.
What would you say to anyone wishing to take part in a challenge of this kind?
Start training as soon as possible. You don't need to go on really long rides straight away but just do a bit of training very often, ideally every day. Then slowly ramp it up from there, increasing the distance and the difficulty, i.e. more hill-climbing!
But, definitely do get involved. The event is an incredible experience and the sense of achievement is very rewarding.
Do you have any future ambitions for similar challenges?
Well, I'd like to do it again next year, for starters. So, the training starts now…
Well done John, we're all very proud of you!
(At the time of writing this article, John had raised over £2,000 for Prostate Cancer, with donations still coming in?)